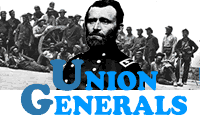 GENERAL JAMES ABRAM GARFIELD, USA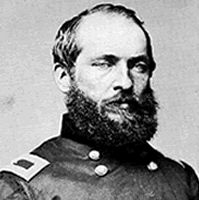 VITAL STATISTICS
BORN: 1815 in Cuyahogo County, OH.
DIED: 1881 (Two months after being shot by an assassin).
CAMPAIGNS: Shiloh, Corinth, and Chickamauga.
HIGHEST RANK ACHIEVED: Major General.
(Later, President of the United States)
BIOGRAPHY
James Abram Garfield was born in a log cabin in Cuyahogo County, Ohio. His father died when Garfield was 18 months old. He was a precocious child who learned to read by the age of 3 years old. Garfield attended elementary school at the local district school. He went on to attend the Geauga Academy in Chester, Ohio and the Eclectic Institute in Hiram, Ohio. He worked his way through school by teaching younger students and working as a janitor. In 1854, Garfield entered Williams College in Williamstown, Massachusetts as a junior. He graduated with honors in the class of 1856.

Upon graduation from Williams, Garfield returned to the Eclectic Institute first as an instructor and then, from 1857-1861, as the President of the Institute. During this period, Garfield studied law and was admitted to the bar in 1860. He was also an Ohio State Senator from 1859-1861. As a State Senator, he took a strong stand against slavery.

Garfield was commissioned a lieutenant colonel in the Union army in August 1861. He fought in some of the early battles including the battle of Sandy River. He earned the title of "Hero of Sandy River. Garfield fought at the battle of Shiloh and Corinth. he became the chief of staff of the Army of the Cumberland.

In 1862, Garfield was elected to Congress. Thus, in 1863, he resigned his army commission and took up his house seat. Garfield was among the most radical Republicans in the House, and called for stronger action against the Confederacy. After the war, he moderated his views, but still supported the impeachment of Johnson. Garfield was a leading House member, who dealt with financial members, and served at different times as Chairman of the House Banking and Currency Committee, Appropriations Committee and as a member of the Ways and Means Committee.


Garfield's administration was cut short by his assassination on July 2. Before his assassination, Garfield's efforts were mostly devoted to resolving issues of political patronage. Garfield was assassinated by Charles Guiteau, a Garfield supporter who had been denied a political appointment. Garfield was gunned down in the waiting room of the Baltimore and Potomac Railroad in Washington. He died of blood poisoning on September 17th, two months after he was shot.