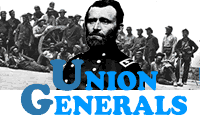 GENERAL ROBERT SANFORD FOSTER, USA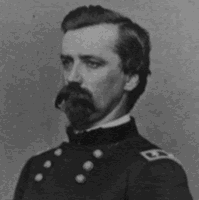 VITAL STATISTICS
BORN: 1834 in Vernon, IN.
DIED: 1903 in Indianapolis, IN.
CAMPAIGNS: Romney, Rich Mountain, Shenandoah Valley, Charleston, and Petersburg.
HIGHEST RANK ACHIEVED: Major General.
BIOGRAPHY
Robert Sanford Foster was born on Vernon, Indiana, on January 27, 1834. He attended local schools, and went to Indianapolis at the age of 16, to study tinning. As soon as the Civil War began, he enlisted, and was commissioned a captain in the 11th Indiana. After the 11th Indiana, which was a 90-day regiment, he transferred to the 13th Indiana with the rank of major. Foster took part in fighting at Romney and Rich Mountain in western Virginia. After commanding a regiment in Brig. Gen. James Shields' division during the Shenandoah Valley Campaign of 1862. He transferred to Suffolk, Virginia, and was later promoted to brigadier general on June 12, 1863. Foster served in South Carolina and Florida, then returned to southeastern Virginia. He was appointed chief of staff under Maj. Gen. Quincy A. Gillmore, and commanded the X Corps/Army of the James. In the Petersburg Campaign, he held brigade and divisional command. After the Civil War, Foster served on the commission to try the conspirators in President's assassination. In September of 1865, Foster resigned his commission, and returned to Indianapolis. There he worked as city treasurer, US marshal and president of the Indianapolis Board of Trade. Foster died on March 3, 1903, in Indianapolis.