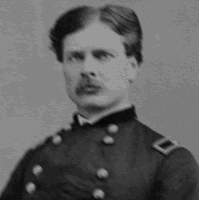 VITAL STATISTICS
BORN: 1835 in Maumee, OH.
DIED: 1906 in Columbus, OH.
CAMPAIGNS: Peninsula, Seven Days, Antietam, Chickamauga, Overlook,
Shenandoah Valley, and Five Forks.
HIGHEST RANK ACHIEVED: Brigadier General.
BIOGRAPHY
James William Forsyth was born in Maumee, Ohio, on August 8, 1835. Graduating from West Point in 1856, he served in Washington Territory until the beginning of the Civil War. With the rank of 1st lieutenant, he became an assistant instructor of Ohio recruits at Mansfield, Ohio. For the first quarter of 1862, he commanded a brigade in the Army of the Ohio. Forsyth was appointed as an inspector general to Maj. Gen. George B. McClellan's staff. During he Peninsula, Seven Days' and Antietam Campaigns, Forsyth was provost marshal general of the Army of the Potomac. He later transferred to the Western theater, and joined Maj. Gen. Philip H. Sheridan as acting assistant adjutant general. Brevetted a major for his actions at Chickamauga, he stayed on Sheridan's staff until the end of the war. Forsyth took part in the Overland Campaign against Richmond and in the 1864 Shenandoah Valley Campaign. Brevetted a brigadier general of volunteers for his service in the Shenandoah Valley, he fought in the Battle of Five Forks. On May 19, 1865, he was officially appointed a brigadier general of volunteers. Forsyth stayed in the Regular Army after the end of the Civil War. He commanded a brigade of cavalry for two years, then joined Sheridan again in 1867, serving as an aide and military secretary. After serving with two cavalry divisions, he worked from 1887 to 1890 to organize a School for Cavalry and Field Artillery at Fort Riley, Kansas. Forsyth led troops involved in the massacre of Sioux Indians at Wounded Knee, South Dakota, on December 29, 1890. In 1894, he was promoted to brigadier general, then to major general in 1897, at which rank he retired from the military. Forsyth died in Columbus, Ohio, on December 29, 1890.