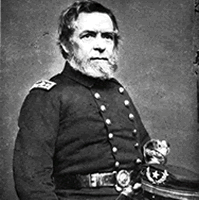 VITAL STATISTICS
BORN: 1806 in New Haven, CT.
DIED: 1863 en route to his new command.
CAMPAIGNS: Fort Donelson and Fort Henry.
HIGHEST RANK ACHIEVED: Admiral.
BIOGRAPHY
Andrew Hull Foote was born on September 12, 1806, in New Haven, Connecticut. He attended West Point in 1822, but left to become a midshipman at Annapolis. Foote was deeply religious, and, while in the navy, began campaigning for temperance and the abolition of slavery. From 1856 to 1858, he commanded the "Portsmouth" in Canton, China. After Chinese nationals fired on ships which were flying American flags, Foote led sailors and marines in action against Chinese. In August of 1861, Foote's friend, Navy Secretary Gideon Welles, placed him in command of naval forces in the upper Mississippi River. Foote worked with Brig. Gen. Ulysses S. Grant to cut the Confederacy off from its supplies in the West and Southwest. On February 6, 1862, Foote's flotilla won a victory at Fort Henry, and took part in the victorious land/sea attack on Fort Donelson on February 14. Injured in the attack on Fort Donelson, he remained on duty, although he was on crutches during the attack on Island No. 10. His health deteriorated so far that he had to step down from command, and was replaced by Capt. Charles H. Davis. Promoted to admiral, Foote was placed in charge of the Bureau of Equipment and Recruiting in Washington, D.C. Nevertheless, he could not be satisfied unless he was in active service, so he was finally given command of the South Atlantic Blockading Squadron. Foote died on his way to his new command, on June 26, 1863.