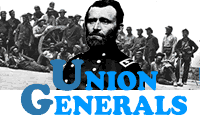 GENERAL HUGH BOYLE EWING, USA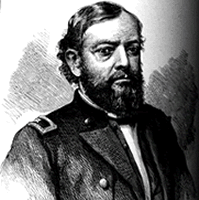 VITAL STATISTICS
BORN: 1826 in Lancaster, OH.
DIED: 1905 in Lancaster, OH.
CAMPAIGNS: South Mountain, Antietam, Second Vicksburg and Missionary Ridge.
HIGHEST RANK ACHIEVED: Brigadier General.

BIOGRAPHY
Hugh Boyle Ewing was born on October 31, 1826, in Lancaster, Ohio. Part of the prestigious Ewing family, he was something of a problem to his family. He studied at West Point, but failed an engineering exam and had to resign before graduation. He joined the 1849 gold rush, but did not find any gold. Upon his return to the East in 1852, he set up a law practice in St. Louis. Then, with help from his brothers Thomas and (foster brother) William T. Sherman, he tried to set up a legal practice in Leavenworth, Kansas. In 1858, Hugh Ewing returned to Ohio; in 1861, through family connections, he was appointed brigade inspector of state volunteers. He went on to serve under Gen. George B. McClellan and Gen. William S. Rosecrans in campaigning in western Virginia. Appointed colonel of the 30th Ohio Infantry in August, he was sent to the Army of the Potomac. There, he developed a reputation for excellent service from his actions at the Battles of South Mountain and Antietam. Ewing was appointed a brigadier general of volunteers on November 29, 1862. In the Second Vicksburg Campaign, he served under his foster brother, Maj. Gen. William T. Sherman, in the XV Corps. Ewing won command of a division in the XVI Corps, which had been transferred to the XV Corps. Then, he was given command of the 4th Division of the XV Corps, which he led through Tennessee, including fighting at the Battle of Missionary Ridge. Ewing led the occupation forces in Louisville, Kentucky, for a year. He then rejoined Sherman's forces, which were in North Carolina, and helped Sherman plan an operation up the Roanoke River. The Civil War ended before Sherman's plans could be put into operation, and Ewing was mustered out of volunteer service in 1866. Upon his departure, he was brevetted a major general for his over four years of service. Because of his war record, Ewing became an influential person in post-war politics. He was appointed US Minister to Holland, serving until 1870. Upon his return to the US, he practiced law briefly in Washington, then moved to a farm near Lancaster, Ohio. He worked as a writer until his death on June 30, 1905.