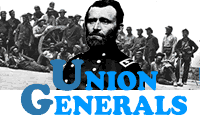 GENERAL WASHINGTON LAFAYETTE ELLIOT, USA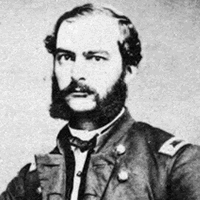 VITAL STATISTICS
BORN: 1825 in Carlisle, PA.
DIED: 1888 in San Francisco, CA.
CAMPAIGNS: Springfield, Wilson's Creek, New Madrid, Island #10, Corinth,
Second Bull Run, Chancellorsville, Gettysburg, Knoxville, Atlanta, and Nashville.
HIGHEST RANK ACHIEVED: Major General.

BIOGRAPHY
Washington Lafayette Elliot was born in Carlisle, Pennsylvania on March 31, 1825. His father was US Navy Capt. Jesse D. Elliot, and young Elliot traveled extensively and obtained a varied education. After attending Dickinson College in Pennsylvania, he went to West Point. Before he was appointed into the Regular Army, he studied medicine. He served in the Mexican War, and served as a recruiter and soldier on the frontier. When the Civil War began, Elliot was a captain. He took part in battles at Springfield and Wilson's Creek, Missouri. Elliot went on to fight at New Madrid, Missouri and Island No. 10, and to participate in the siege of Corinth, Mississippi. After taking part in a cavalry raid on the Mobile & Ohio Railroad, he was made a brigadier general on June 11, 1862. At the Second Battle of Bull Run, Elliot was serving as Maj. Gen. John Pope's chief of cavalry for the Army of Virginia, and was wounded. When Pope left the East, Elliot took over his command of the Department of the Northwest. Then, he led the 3d Division/III Corps/Army of the Potomac at Chancellorsville and Gettysburg. During campaigning for Knoxville, Tennessee in 1863, he was moved to the head of the 1st Cavalry Division/Army of the Cumberland, serving in Tennessee. Elliot was attached to the command of Maj. Gen. George H. Thomas for the campaigns to Atlanta and in Tennessee. After fighting in the Battle of Nashville, he was transferred to the command of the District of Kansas. Elliot was brevetted a major general at the end of the war, to reward him for his extensive service, He remained in the US Army until 1879, then retired to work in banking in San Francisco, California. Elliot died there, on June 29, 1888.