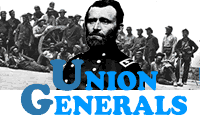 GENERAL ALFRED WASHINGTON ELLET, USA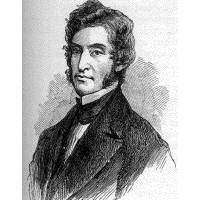 VITAL STATISTICS
BORN: 1820 in Penn's Manor, PA.
DIED: 1895 in Eldorado, KS.
CAMPAIGNS: Pea Ridge, Memphis, and Second Vicksburg.
HIGHEST RANK ACHIEVED: Brigadier General.

BIOGRAPHY
Alfred Washington Ellet was born on October 11, 1820, in Penn's Manor, Pennsylvania; one of fourteen children. He grew up on the family farm, and studied engineering, like his brother Charles. Young Alfred became a civil engineer, traveling around the country. At the beginning of the Civil War, he was living in Bunker Hill, Illinois. In August of 1861, he joined the 59th Illinois Infantry, and was elected captain, leading troops at Pea Ridge. His brother, Charles, was commissioned a colonel in the Union army in command of a ram fleet in the Mississippi River; and asked that his brother Alfred be made second-in-command. Alfred set out to assume his position under his brother, and led troops to victory in the Battle of Memphis on the Mississippi. Charles was wounded in the battle, and died from complications on June 21, 1862. Alfred became colonel and ram-fleet commander in his brother's place.
During the summer of 1861, Charles Ellet fought with Confederate gunboats on the Mississippi and Yazoo Rivers. He discovered the construction of the Confederate ironclad 'Arkansas," and was attacked by guerrillas shooting from the riverbanks. In order to counter guerilla attacks, the Union formed the amphibious army force called the "Mississippi Marine Brigade." Ellet was appointed its commander, and was promoted to brigadier general on November 1, 1862. While still in command of the ram fleet, Ellet reported to Rear Adm. David D. Porter, one of the actions which caused a series of conflicts between the Army and the Navy. In the Second Vicksburg Campaign, he ordered the burning of Austin, Mississippi, in reaction to its residents' giving aid to Confederates. Ellet also oversaw transport duty operations, and took part in marine brigade operations in Arkansas and Louisiana. After losing his position as head of the ram fleet, he was sent to New Orleans, and resigned his commission at the end of 1864. In the years following the Civil War, Ellet returned to working as a civil engineer, and became involved in railroad development. He moved to Kansas, and died in El Dorado, Kansas on January 9, 1895.