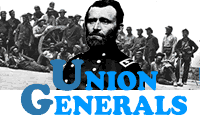 GENERAL ABNER DOUBLEDAY, USA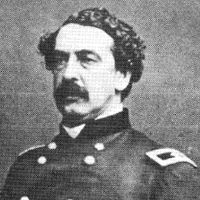 VITAL STATISTICS
BORN: 1819 in Ballston Spa, NY.
DIED: 1893 in Mendham, NJ.
CAMPAIGNS: Fort Sumpter, Second Bull Run, South Mountain,
Antietam, Fredericksburg, and Gettysburg.
HIGHEST RANK ACHIEVED: Brigadier General.

BIOGRAPHY
Abner Doubleday was born in Ballston Spa, New York, on June 26, 1819. Graduating from the US Military Academy in 1842, he served in the Mexican War under Gen. Zachary Taylor, who later became President of the US. In the years before the Civil War, Doubleday fought in various conflicts with Native Americans. In 1861, he was stationed at Fort Sumter, at the rank of captain, and is credited by some with having shot the Union's first shot to defend the fort. He became major of the 17th Infantry, and was appointed a brigadier general in February of 1862. He led troops at the Second Battle of Bull Run; as well as the Battles at South Mountain, the Antietam and Fredericksburg. At Gettysburg, he took command when Maj. Gen. John J. Reynolds was killed, and held the Union troops in their position. Despite his success at Gettysburg; he was given the nickname "Forty-eight Hours" Doubleday, and was removed from command. Doubleday went to Washington and wrote what was called the "longest battle report of the Union army," in an attempt to vindicate himself from his professional humiliation. He was not in active service for the rest of the war, but remained in the Regular Army until his retirement in 1873. He was rumored to have originated the game of baseball. Doubleday died on January 26, 1893, in Mendham, New Jersey.