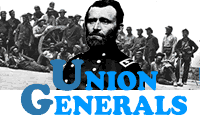 GENERAL SAMUEL RYAN CURTIS, USA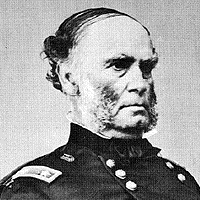 VITAL STATISTICS
BORN: 1805 in Clinton County, NY.
DIED: 1890 in Council Bluffs, ID.
CAMPAIGN: Pea Ridge.
HIGHEST RANK ACHIEVED: Major General.
BIOGRAPHY
Samuel Ryan Curtis was born on February 3, 1805, in Clinton County, New York. He grew up in Ohio, was educated in public schools, then attended the US Military Academy at West Point. He graduated in 1831, spent a year on garrison duty in Indian Territory, then resigned to become a civil engineer and to study law in Ohio. After fighting in Mexican War, he opened a law office while working as city engineer of St. Louis, Missouri. He was elected mayor of Keokuk, Iowa, then was elected to the US House of Representatives for three consecutive terms. Resigning his seat in Congress, he accepted a commission as brigadier general of volunteers as of May 17, 1861. Curtis fought well at the Battle of Pea Ridge in 1862, and was promoted to major general on March 21 of that year. After commanding the Department of the Missouri, he led the Department of Kansas, and finished the war with the Department of the Northwest. In 1865, he became US peace commissioner to the Indians, and was commissioner for the Union Pacific Railroad until a few months before his death. He died on December 26, 1866, in Council Bluffs, Iowa.