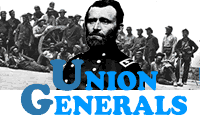 GENERAL GEORGE CROOK, USA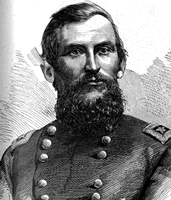 VITAL STATISTICS
BORN: 1828 in Dayton, OH.
DIED: 1890 in Chicago, IL.
CAMPAIGN: Lewisburg, Antietam, Chickamauga, Shenandoah Valley,
Winchester, Fisher's Hill, and Cedar Creek.
HIGHEST RANK ACHIEVED: Major General.
BIOGRAPHY
George Crook was born near Dayton, Ohio, on September 8, 1828. He graduated from West Point in 1852, and was stationed in the Pacific Northwest when the Civil War began. In the Civil War, Corse commanded divisions at Antietam and Chickamauga, and led the Army of Western Virginia through the 1864 Shenandoah Valley Campaign. In the course of the war, he was wounded, captured and cited for gallantry in four different battles. Crook was commissioned a major general on October 21, 1864. After the war, he was sent to the West to protect settlers from Native American attacks. He became best known as an Indian fighter in the 1870s and 1880s. Crook remained in the US Army until his death on March 21, 1890, in Chicago, Illinois.