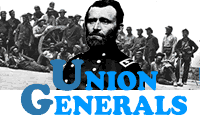 GENERAL JACOB DOLSON COX, USA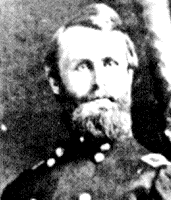 VITAL STATISTICS
BORN: 1828 in Montreal, CANADA.
DIED: 1900 in Glouster, MA.
CAMPAIGN: Virginia, Antietam, South Mountain, Franklin,
Nashville, Kingston, Goldsborough.
HIGHEST RANK ACHIEVED: Major General.
BIOGRAPHY
Jacob Dolson Cox was born in Montreal, Canada, on October 27, 1828. After graduating from Oberlin College in 1851; he became superintendent of schools in Warren Ohio, and opened a law practice. A free-soil Whig, he helped form a radical anti-slavery party. When the Civil War began, Cox joined the military. He became a brigadier general of volunteers to rank from May 17 1861. Cox took part in the western Virginia campaign of 1861, then the Antietam Campaign as part of the Army of the Potomac. He temporarily commanded the IX Corps at South Mountain and led it at Antietam. On December 7, 1864, the US Senate confirmed him a major general. After serving in Ohio and Tennessee, he defeated the Confederates at Kingston. Before he left the service, he was elected governor of Ohio. He was governor for a year, but did not win reelection because of his position as a moderate on the issue of black suffrage. Cox became Secretary of the Interior in 1868, under President Grant, in which position he supported civil service reforms. After resigning his position in 1870 because of difficulties with the President, he returned to his law practice. Cox worked as an educator, and wrote on military topics until his death on August 4, 1900, near Gloucester, Massachusetts.