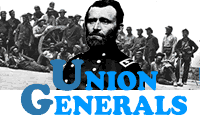 GENERAL JOHN MURRAY CORSE, USA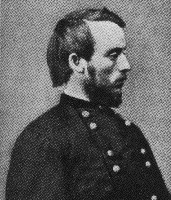 VITAL STATISTICS
BORN: 1835 in Pittsburgh, PA.
DIED: 1893 in Winchester, MA.
CAMPAIGN: New Madrid, Island #10, Corinth, Farmington, Vicksburg, Chattanooga, Missionary Ridge, Altoona Pass, Savannah and the Carolinas.
HIGHEST RANK ACHIEVED: Major General.
BIOGRAPHY
John Murray Corse was born on April 27, 1835, in Pittsburgh, Pennsylvania. When he was seven years old, Corse moved with his family to Burlington, Iowa Territory. His father became a six-term mayor, and owned a book and stationary business, in which young Corse became a partner. Young Corse studied law and was admitted to the bar, and also attended the US Military Academy at West Point. He graduated from West Point in 1855. In June of 1861, he became major of the 6th Iowa Infantry, serving on Maj. Gen. John Pope's staff early in 1862. Corse worked with Pope during the operations against New Madrid and Island No. 10. Returning to his regiment in May, he fought at Corinth and Farmington, and became a lieutenant colonel. Corse fought well at Vicksburg, and was promoted to brigadier general of volunteers in August of 1863. He was placed in command of the 4th Brigade/4th Division/XV Corps/Army of the Tennessee, which he led in the Chattanooga Campaign. During that campaign, Corse was injured at Missionary Ridge, and went to Iowa to recuperate. Upon his return to duty, he was made inspector general to Maj. Gen. William T. Sherman. Corse served in this capacity until July of 1864, hen he was sent to a division in the XVI Corps. Sherman sent Corse to secure the strategic Allatoona Pass when Confederate Gen. John Bell Hood tried to cut off Sherman's communications with the Union rear. On October 5, 1864, Corse was able to secure the pass for Sherman's Union troops. Corse commanded 2,000 troops to secure the pass, suffering heavy losses, but holding the position until reinforcements arrived. Corse joined Sherman in his march through Georgia, took part in the Siege of Savannah and the Carolinas Campaign. Brevetted a major general, he left the armed forces in April of 1866. After the war, Corse became a collector of internal revenue for Chicago, and built railroads and bridges. He later moved to Massachusetts, and became chairman of the state Democratic committee and postmaster of Boston. Corse died on his 58th birthday, on April 27, 1893, in Winchester, Massachusetts.