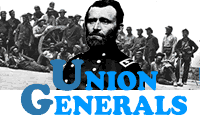 GENERAL MICHAEL CORCORAN, USA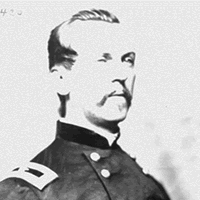 VITAL STATISTICS
BORN: 1827 in County Donegal, IRELAND.
DIED: 1863 in Fairfax Court House, VA.
CAMPAIGN: First Bull Run and Suffolk (VA).
HIGHEST RANK ACHIEVED: Brigadier General.
BIOGRAPHY
Michael Corcoran was born in County Donegal, Ireland, on September 21, 1827. His father had been an officer in the British army, and young Corcoran emigrated to the United States in 1849. In 1859, he became colonel of the 69th New York Militia; but lost the position the next year, when he refused to parade the regiment before the Prince of Wales, who was visiting. He was spared a court-martial because the beginning of the Civil War made him an important asset to the US Army because of his ability to raise Irish volunteers. Corcoran became a hero at the First Battle of Bull Run, but was captured. During the "Enchantress" Affair, Corcoran was the Union officer chosen by lot to become a Confederate hostage. Refusing a parole, Corcoran was not exchanged until August of 1862. Upon his release, he was commissioned a brigadier general and was invited to have dinner with President Lincoln. Corcoran continued his efforts to recruit Irish Americans for the Union, and raised the Corcoran Legion (also called the Irish Legion). He served as a divisional commander in the VII Corps/Army of Virginia, especially at Suffolk, Virginia in April 1863; later commanding a division in the XXII Corps Defenses of Washington. On December 22, 1863, Corcoran fell from a horse near Fairfax Court House, Virginia, and was crushed to death under his horse.