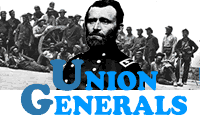 GENERAL JOSEPH ALEXANDER COOPER, USA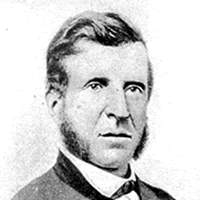 VITAL STATISTICS
BORN: 1823 in Whitley County, KY.
DIED: 1910 in Stafford, KS.
CAMPAIGN: Mill Springs, Stone's River, Chickamauga, Chattanooga, Jonesborough, Bentonville, and Nashville.
HIGHEST RANK ACHIEVED: Major General.
BIOGRAPHY
Joseph Alexander Cooper was born in Whitley County, Kentucky, on November 25, 1823. His family moved to Campbell County, Tennessee, and young Cooper grew up to become a farmer and fervent Union supporter. After serving briefly in the Mexican War, he took part in politics as an anti-secessionist. When Tennessee seceded, Cooper secretly recruited Union sympathizers. Then, he moved them to Kentucky, where they were sworn into service to the Union as the 1st Tennessee Infantry, with Cooper as one of its captains. After serving in combat in some engagements in Tennessee and at Mill Springs, Cooper was commissioned colonel of the 6th Tennessee. He took part in the Battles of Stone's River and Chickamauga, and the Chattanooga Campaign. After joining Maj. Gen. William T. Sherman's army in the campaign from Tennessee to Atlanta, he was promoted to brigadier general on July 30, 1864. He commanded a brigade until the end of the war, but obtained divisional command after the Battle a Jonesborough; during the Franklin and Nashville Campaign and during the advance on Bentonville. Brevetted a major general of volunteers for his service during the war and his actions at the Battle of Nashville, he left the service in 1866. After the Civil War, he ran unsuccessfully for a seat in the US Senate. He became an Internal Revenue collector for ten years and returned to farming. When he was 57, he moved with his family to Kansas, where also worked in farming. Cooper died on May 20, 1910, in Stafford, Kansas.