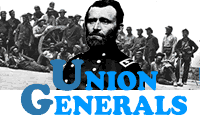 GENERAL JOSHUA LAWRENCE CHAMBERLAIN, USA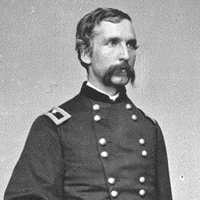 VITAL STATISTICS
BORN: 1828 in Brewster, ME.
DIED: 1914 in Portland, ME.
CAMPAIGN: Antietam, Fredericksburg, Gettysburg, and Petersburg.
HIGHEST RANK ACHIEVED: Major General.
BIOGRAPHY
Joshua Lawrence Chamberlain was born in Brewster, Maine, on September 8, 1828. He became a professor at Bowdoin College, in Maine. In the summer of 1862, however, he obtained a sabbatical, with the stated intention of studying in Europe. Instead of going to Europe, however, Chamberlain enlisted in the military, and became lieutenant colonel of the 20th Maine Infantry. The 20th Maine , as part of the V Corps, was with the Army of the Potomac during most of the engagements from Antietam to Appomattox. Chamberlain and his troops fought at battles including Fredericksburg and Gettysburg. At Gettysburg, Chamberlain displayed great courage, eventually earning him a medal of honor. At the beginning of the battle, he was ordered to hold Little Round Top, a small wooded hill on the left of the Union line. Chamberlain realized that the site was important to the Union position, and he and his troops held the spot, repeatedly pushing back Confederate attacks. When the Confederates mustered their forces for a final attack. Chamberlain found out that his troops had run out of ammunition. Nevertheless, Chamberlain refused to retreat. He made a critical decision, and led the Union troops in a forceful bayonet charge. The charge broke the Confederate attack, and kept Little Round Top in Union hands. Although he was wounded, he continued to command the troops until the Confederates were forced to retreat from Gettysburg. Later, during the Petersburg assaults of 1864, Chamberlain was wounded, for the fourth time. General Grant was so impressed by his service and courage there that he promoted Chamberlain to brigadier general on the field. Despite the severity of the wound, Chamberlain recovered and returned to the army, and was brevetted a major general. On April 12, 1865, he received the formal surrender of Gen. Robert E. Lee's veterans. In respect to the Confederate soldiers who were stacking arms, Chamberlain ordered his troops to sand at attention in a salute to the Confederates. Chamberlain was mustered out of the service in January of 1866, and refused a commission in the Regular army. He served four subsequent terms as governor of Maine, from 1866 to 1870, and was president of Bowdoin College from 1870 to 1883. In August of 1893, he received a medal of honor in recognition of his wartime valor, especially his actions in the Battle of Gettysburg. Chamberlain went on to become a businessman, and to write about his experiences in the Civil War. He died on February 24, 1914, in Portland, Maine.