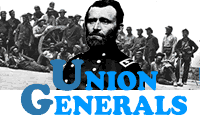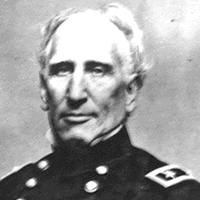 VITAL STATISTICS
BORN: 1807 in Greenwich, RI.
DIED: 1882 in Brooklyn, NY.
CAMPAIGN: Peninsula and Seven Pines.
HIGHEST RANK ACHIEVED: Major General.
BIOGRAPHY
Silas Casey was born on July 12, 1807, in East Greenwich, Rhode Island. He attended the US Military Academy at West Point but, despite his skills in mathematics, graduated near the bottom of the class. A lieutenant in the 2d US Infantry, he served at in the Great Lakes region and on the frontier. Casey served in the Seminole War, then fought under Gen. Winfield Scott in the Mexican War. In Mexico, he earned two brevets for gallantry, and was seriously wounded during the storming of Chapultepec. Casey served on the Pacific Coast for most of the ten years preceding the Civil War. A member of an officer's board that revised the tactics manual, he later prepared the "System of Infantry Tactics," which the War Department officially adopted and published in 1862. Casey's manual was not very different from an 1855 manual, except in its expansion of company- and battalion-level tactics to fit the brigade and division formations which were used in the Civil War. The new manual was used by thousands of volunteer officers in the Union army, and even influenced Confederate tactics. Casey published a companion work, "Infantry Tactics for Colored Troops," in 1863. During the Civil War, Casey served in only one field campaign: the Peninsula Campaign. There, his division of the II Corps/Army of the Potomac was defeated by a Confederate attack at Seven Pines. Nevertheless, he was promoted to brigadier general of volunteers on August 31, 1861, and was made a major general as of May 31, 1862. Casey spent the rest of the war as an administrator, and commanded a provisional brigade in the defenses of Washington, D.C. for a period. In July of 1865, he was mustered out of the volunteer service, and served as colonel of he 4th Infantry until he retired from the Regular Army in 1868. Casey died in Brooklyn, New York, on January 22, 1882, and was buried at his family farm in North Kingstown, Rhode Island.