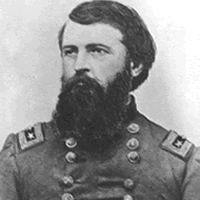 VITAL STATISTICS
BORN: 1830 in Elizabethon, TN.
DIED: 1891 in Washington, DC.
CAMPAIGN: Jonesville
HIGHEST RANK ACHIEVED: Major General and Rear Admiral.
BIOGRAPHY
Samuel Powhatan Carter was born on August 6, 1819, in Elizabethton, Tennessee. He was educated at Washington College, in Virginia, and at the College of New Jersey (now known as Princeton). Appointed a navy midshipman in 1840, he served on ships in the Pacific, on the Great, and with the home squadron. In 1845, he was ordered to the Naval Academy at Annapolis, and graduated in 1846. After returning to naval duty, he served on the ship of the line Ohio, from which he saw the fall of Vera Cruz. He later served with the Naval Observatory, the Mediterranean squadron, as an assistant professor a the Naval Academy and with the East India squadron. At the beginning of the Civil War, Carter was with the Brazil squadron. Tennessee Sen. Andrew Johnson and other individuals helped Carter obtain "special duty" with the War Department. Sent to Tennessee to organize and train volunteer forces, Carter managed to prepare more than a regiment of troops, the first troops to come from the state. He was soon commanding a Tennessee brigade, and was commissioned a brigadier general on May 1, 1862. Carter went on to lead a Union cavalry raid which defeated the Confederates at Holston, Carter's Station, and Jonesville. These Union victories helped reduce the pressure on Union forces at Murfreesboro. After commanding the left wing of the Union forces in the Battle of Kingston, North Carolina; he was brevetted a major general of volunteers. While Carter was serving in the US Army, the US Navy promoted him to lieutenant commander in 1863, then to commander in 1865. After the Civil War, Carter returned to the Navy, and had been appointed a rear admiral before his retirement in 1882. Remembered by fellow officers as "tall, handsome and dignified, graceful in carriage and very affable ... of sincere piety and undoubted courage," he died on May 26, 1891, in Washington, D. C.