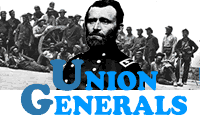 GENERAL EUGENE ASA CARR, USA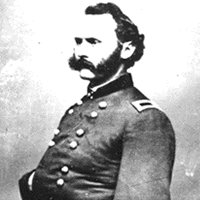 VITAL STATISTICS
BORN: 1830 in Concord, NY.
DIED: 1910 in Washington, DC.
CAMPAIGN: Pea Ridge and Mobile Bay.
HIGHEST RANK ACHIEVED: Brigadier General.
BIOGRAPHY
Eugene Asa Carr was born on March 20, 1830, in Concord, New York. He graduated from the US Military Academy in 1850, and was appointed tot he Regiment of Mounted Riflemen. For ten years, served mainly on the Western frontier, fighting in skirmishes involving Native Americans. In 1854, Carr was seriously wounded by an arrow, near Limpia, Texas. At the beginning of the Civil War, he was serving as a cavalry captain at Fort Washita, in Indian Territory. After joining Brig. Gen. Nathaniel Lyon's troops in Missouri, Carr took part in the Battle of Wilson's Creek. Six days later, he was appointed colonel of the 3d Illinois Cavalry. In the next several months, Carr took part in operations which pushed the Confederates out of Missouri. During the Battle of Pea Ridge, Carr was wounded three times, but refused to leave the battlefield. He received a medal of honor for his actions in that battle, and was commissioned a brigadier general of volunteers effective March 7, 1862. During the Second Vicksburg Campaign, Carr commanded a division. He then was sent to Arkansas, but saw little action there. In 1865, he and Maj. Gen. E. R. S. Canby took part in the Siege of Mobile. Carr is best known for his actions as a fighter of Indians after the Civil War. Serving in the 5th and 6th cavalry from 1868 to 1891, he was called "perhaps the most famous and experienced Indian fighter ... following the Civil War." He retired as a brigadier general in 1893, and died in Washington, D.C., on December 2, 1910. Carr was buried at West Point.