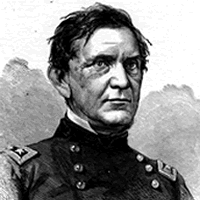 VITAL STATISTICS
BORN: 1817 in Platts Landing, KY.
DIED: 1873 in Siskiyu, CA.
CAMPAIGN: Mobile Bay.
HIGHEST RANK ACHIEVED: Brigadier General.
BIOGRAPHY
Edward Richard Sprigg Canby was born on November 9, 1817, in Platt's Landing, Kentucky. He and his parents moved to Indiana, from which young Canby was appointed to West Point. Canby graduated in 1835, and served in the Seminole War. He later led major engagements in the Mexican War, and was brevetted twice for gallantry. When the Civil War began, Canby was fighting Native Americans a Fort Defiance, in New Mexico Territory. He was then appointed commander of the Department of New Mexico. Under Brig. Gen. Henry Hopkins Sibley, Canby led efforts to repel Confederate attempts to invade the New Mexico Territory. He succeeded, with the help of Colorado volunteers, in defeating the Confederates at the Battle of Glorieta Pass, sometimes called the "Gettysburg of the West." Within a week of the battle, Canby was made a brigadier general. He served as assistant adjutant general in Washington, D.C. for two years, and commanded troops in New York City during the drafts riots of July 1863. On May 7, 1864, he was appointed a major general, leading the Military Division of West Mississippi. In 1865, he captured Mobile, Alabama, and accepted the surrender of the last Confederate army in the field in May of 1865. After the war, Canby was given the permanent rank of brigadier general. He was appointed commander of the Pacific Coast's Department of the Columbia in 1870. On April 11, 1873, while leading a peace mission in California, Canby was killed by Modoc Indians.