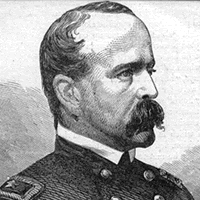 VITAL STATISTICS
BORN: 1831 in Utica, NY.
DIED: 1901 in Cold Springs, NY.
CAMPAIGN: First Bull Run, Peninsula, Seven Days, Fredericksburg, and Chattanooga, .
HIGHEST RANK ACHIEVED: Major General.
BIOGRAPHY
Daniel Butterfield was born on October 31, 1831, in Utica, New York. After graduating from Union College, he became a businessman in New York City. When the Civil War began, he joined the Army. Although he had no Regular Army experience, he rose quickly through the military ranks. By the middle of 1861, he was a colonel of the 12th New York Militia, which he led in the Shenandoah Valley in the First Bull Run Campaign. He was appointed a brigadier general, to rank from September 7, 1861, and commanded a brigade in the V Corps/Army of the Potomac. Butterfield won a medal of honor for his bravery at Gaines' Mill, in the 1862 Peninsular Campaign. In July of 1862, while in camp at Harrison's Landing, Virginia; Butterfield created "Taps." He began with "Tattoo," the "lights out" bugle call adapted from a French bugle call in 1835. Taking the last 5 1/4 measures of "Tattoo," he worked with bugler O. W. Norton of the 83d Pennsylvania to polish the piece into what is now known as "Taps." Butterfield himself ordered that his and Norton's bugle call be used instead of "Tattoo" to signal the extinguishing of lights in camp. After the Civil War, "Taps" would be established as the official military call for the end of the day. Butterfield also designed the system of corps badges used by the federal army. He was appointed a major general, to date from November 29, 1862. His rapid advance in the military was largely due to his skill in military administration and his well-placed political connections. Nevertheless, he returned to divisional command, after serving indifferently in the Fredericksburg Campaign. When Butterfield's friend, Maj. Gen. Joseph Hooker, took control of the Army of the Potomac, he made Butterfield chief of staff. Butterfield soon earned the nickname, "Little Napoleon," because of his bad temper and meddlesome assertiveness. Nevertheless, Butterfield maintain his position, even after Hooker was replaced by Maj. Gen. George Meade. Wounded during the third day of battle at Gettysburg, Butterfield took time off to recuperate. Upon his return to the army, he resumed service under Hooker at the Battle of Chattanooga. In the Atlanta Campaign, he commanded a division in the XX Corps, after which he was brevetted a brigadier and major general. Since he was sent home as an invalid before Atlanta, he finished the war on special service. After the war, Butterfield served as superintendent of the army recruiting service and colonel of the 5th Infantry, until 1870. He died at Cold Spring, New York, on July 17, 1901; and was buried at West Point by special order, although he never attended the military academy.