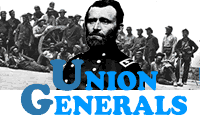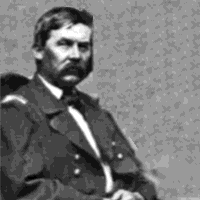 VITAL STATISTICS
BORN: 1826 in Woodford County, KY.
DIED: 1863 in Virginia.
CAMPAIGN: Second Bull Run and Gettysburg.
HIGHEST RANK ACHIEVED: Major General.
BIOGRAPHY
John Buford was born on March 4, 1826, on Woodford County, Kentucky. His family moved to Rock Island, Illinois when he was a child. Like his older brother, Napoleon Bonaparte Buford, John Buford attended the US Military Academy at West Point. Graduating in 1848, he served in the dragoons, taking part in various military operations until his regiment marched from Kansas to Washington, D.C., at the beginning of the Civil War. Buford held a small assignment as inspector at the time. Maj. Gen. John Pope, commander of the army defending Washington, was aware that Buford was one of the most skilled and experienced cavalry officers in the Regular Army, and soon Buford was made a brigadier general and appointed a cavalry commander. Buford applied his military knowledge from his days as a dragoon officer. One concept he brought to his command was using horses to get troops where they needed to be, then having the cavalry dismount and fight like infantry. Another idea was to use cavalry in scouting. His brigade, while scouting, captured the famous plumed hat of Confederate Maj. Gen. J. E. B. Stuart, as well as a copy of Gen. Robert E. Lee's orders to gather the Army of Northern Virginia against Maj. Gen. Pope. Buford's intelligence gathering might have helped avert a Union disaster at the Second Battle of Bull Run, if it had been utilized effectively. Buford led troops at the Battle of Gettysburg, and succeeded in holding off the Confederate forces long enough for Union troops to secure a defense position. His health deteriorated in the fall of 1863, and he took a sick leave in November. Buford died from typhoid fever on December 16, 1863, in Virginia. His appointment as major general, to rank from the first day of the Battle of Gettysburg, was confirmed after his death.