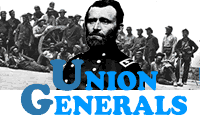 GENERAL JOHN CARLOS BUELL, USA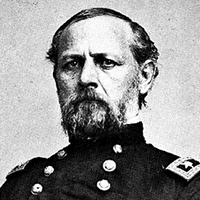 VITAL STATISTICS
BORN: 1818 in Lowell, OH.
DIED: 1898 in Paradise, KY.
CAMPAIGN: Shiloh and Perryville.
HIGHEST RANK ACHIEVED: Brigadier General.
BIOGRAPHY
Don Carlos Buell was born in Lowell, Ohio, on March 23, 1818. After attending the US Military Academy at West Point, he fought in the Mexican War. He was commissioned a brigadier general on May 17, 1861, worked on the defenses of Washington, D.C. Placed in command of a division in the Army of the Potomac, he took over Brig. Gen. William T. Sherman's position as commander of the Department of the Ohio. Buell was promoted to major general on March 22, 1862, and his timing of arrival at the Battle of Shiloh helped save the Union forces from defeat. After the Battle of Shiloh, however, Buell's career took a negative turn. He commanded poorly in his Kentucky and Tennessee operations, and was publicly condemned for his evacuation of central Tennessee. Buell was replaced by Maj. Gen. George H. Thomas to lead the efforts to repel Confederate General Bragg and Confederate Major General Smith's invasion of Kentucky. After Thomas protested on Buell's behalf, the replacement order was canceled. Buell managed to force the Confederate troops to retreat at the Battle of Perryville, but failed to pursue them. The public was angered by this failure, and Buell's superiors were disappointed. Buell was removed from command on October 24, 1862, never to lead troops again. Historians attribute Buell's difficulties as a field general to an excess of caution in combat and a lack of personal charisma. After the Civil War, he became president of an ironworks in Kentucky, then as a federal pension agent in Louisville, Kentucky. Buell died on November 19, 1898, in Paradise, Kentucky.