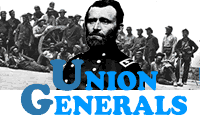 GENERAL EGBERT BENSON BROWN, USA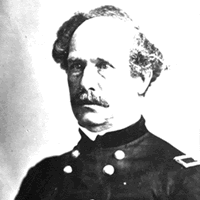 VITAL STATISTICS
BORN: 1816 in Brownsville, NY.
DIED: 1902 in West Plains, MO.
CAMPAIGN: Booneville.
HIGHEST RANK ACHIEVED: Brigadier General.
BIOGRAPHY
Egbert Benson Brown was born in Brownsville, New York, on October 4, 1816. After moving to St. Louis, Missouri; he adopted his new state in his affections. In 1852, he began a railroad business, and became strong Unionist supporter. When the Civil War began, Brown became lieutenant colonel in Missouri's 7th Infantry Regiment, but soon resigned. In ten days, he was appointed brigadier general of the state militia; in six months, he was brigadier general of US Volunteers. In the course of the war, Brown was wounded twice: once in the shoulder, once in the hip. Even before he was wounded, however, he was considered an adequate, but hardly brilliant general. Brown's hesitation allowed the escape of Confederate Brig. Gen. Joseph O. Shelby's troops to the Arkansas frontier. Later, at Westport, Brown hesitated too long to take advantage of an opportunity to attack Confederate forces; although he was never convicted of wrongdoing in the case. By the end of the war, he was in command of the District of Rolla, in Missouri. A year after the war ended, Brown became a pension agent in St. Louis. He later became a farmer and a member of the state board of equalization. Brown died on February 11, 902, in West Plains, Missouri. He was buried in Cuba, Missouri.