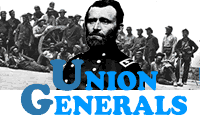 GENERAL JAMES GILLPATRICK BLUNT, USA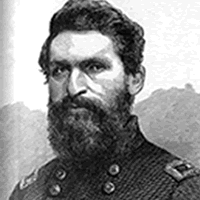 VITAL STATISTICS
BORN: 1826 in Trenton, ME.
DIED: 1899 in Washington, DC.
CAMPAIGN: Kansas Territory.
HIGHEST RANK ACHIEVED: Brigadier General.
BIOGRAPHY
James Gillpatrick Blunt was born in Trenton, Maine on July 21, 1826. As a young man, he served as a seaman, then earned a medical degree in Ohio. He practiced medicine in that year before he moved to the Kansas frontier. Blunt was one of the leading abolitionists involved with the incidents called "Bleeding Kansas." He helped John Brown assist escaped slaves to reach Canada. When the Civil War began, Blunt led a cavalry regiment in Brig. Gen. James H. Lane's Kansas Brigade. The Kansas Brigade was brought into federal service on the same day Blunt was commissioned a brigadier general: April 8, 1862. In May, he was appointed commander of the Department of Kansas, serving until September. Blunt went on to defeat Col. Douglas H. Cooper's Native American troops at Old Fort Wayne, Indian Territory, in October of 1862. Promoted to major general on November 29, 1862, he led the 1st Division/Army of the Frontier. They were successful in capturing Van Buren, Arkansas; and scored victories at Cane Hill and Prairie Grove. Blunt was commander of the District of the Frontier from June to October of 1863, and transferred his headquarters from Fort Scott to Fort Smith. During the transfer, a band of Confederate guerrillas attacked the wagon train, killing 90 federal soldiers, most of whom were African Americans. Blunt was dismissed from command, but was reinstated by President Abraham Lincoln because of Blunt's popularity. Blunt was reassigned to recruit African Americans on the frontier. When Confederate Maj. Gen. Sterling Price made a last desperate attempt to recapture Missouri in the fall of 1864, Blunt was sent back to the battlefield. Blunt and his troops joined other Union generals and troops to drive Price out of Missouri permanently. During the last year of the war, he led the District of Upper Arkansas and the District of South Kansas. After the Civil War ended, Blunt moved to Leavenworth, Kansas, and resumed his medical practice. After four years, he moved to Washington, D.C. He worked there as a claims agent, then in a government hospital for the insane. Blunt died in Washington on July 27, 1881.