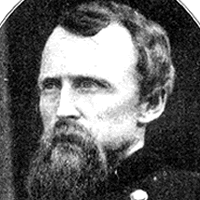 VITAL STATISTICS
BORN: 1819 in Madison County, AL.
DIED: 1907 in Forest Glen, MD.
CAMPAIGN: First Bull Run, Chancellorsville, Chaffin's Farm,
Darbytown Road, Appomattox.
HIGHEST RANK ACHIEVED: Major General.
BIOGRAPHY
William Birney was born on May 28, 1819, in Madison County, Alabama. His father, James G. Birney, was an ardent abolitionist, moved the family north. The elder Birney even ran for President as an antislavery candidate. Young Birney began working as a lawyer in Cincinnati, Ohio, then lived in Europe for five years. While in Europe, he became involved in the French Revolution of 1848. By 1853, he had returned to the United States, and had established a newspaper in Philadelphia. When the Civil War broke out, Birney and his brother, David, enlisted. William Birney became a captain with the 1st New Jersey Infantry, and took part in the First Battle of Bull Run. Promoted to major with the 4th New Jersey Infantry, he served with the 4th New Jersey through the Chancellorsville Campaign. In order to help speed up emancipation in Maryland, Birney began recruiting slaves into seven black regiments. Commissioned a brigadier general, effective May 22, 1863, he became recruiting officer for black troops in Maryland. In 1864, Birney and his regiments became part of the Department of the South. While the troops fared poorly in South Carolina, they fought well in Florida. Birney's brigade also served under Maj. Gen. Benjamin F. Butler in Virginia, and joined other black regiments to form the 3d Division of the X Corps. The division suffered a serious defeat at the Battle of Chaffin's Farm, but continued to fight on the Richmond line, and took part in two battles along the Darbytown Road. In December of 1864, the black regiments of the X and XVII corps combined into the XXV Corps, with all African American troops under Maj. Gen. Godfrey Weitzel. Birney's regiments became the 2d Division of the XXV Corps, and participated in the last assaults on the Petersburg line. Although they were present during the Appomattox Campaign, they saw little action. Birney was brevetted a major general on March 13, 1865, and left military service in August of that year. After the war, he worked as US attorney for the District of Columbia. Birney died at his home in Forest Glen, Maryland, on August 14, 1907.