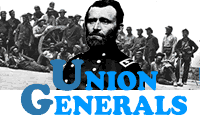 GENERAL WILLIAM WORTH BELKNAP, USA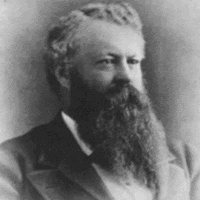 VITAL STATISTICS
BORN: 1829 in Newburgh, NY.
DIED: 1890 in Washington, DC.
CAMPAIGN: Shiloh, Corinth, Vicksburg, Atlanta, Ezra Church,
March to the Sea, and Carolinas.
HIGHEST RANK ACHIEVED: Brigadier General.
BIOGRAPHY
William Worth Belknap was born on September 22, 1829, in Newburgh, New York. After studying at the College of New Jersey (now known as Princeton), he practiced law in the District of Columbia. He moved west; and was elected, as a Democrat, to the Iowa legislature in 1857. By 1861,. however, he supported Lincoln's position on the war. In December of 1861, Belknap was commissioned a major of the 15th Iowa Volunteers. He served with distinction, and was wounded at the Battle of Shiloh. As lieutenant colonel of the regiment, he led at Corinth, and was promoted to colonel in June of 1863. Belknap led the Iowa regiment through many engagements in the Vicksburg Campaign, and was promoted to brigadier general of volunteers in the summer of 1864. Placed in command of the 3d Brigade/4th Division/XVII Corps, he maintain an active presence in the Atlanta Campaign. At Ezra Church, he led his troops to lend support to the XV Corps division. Belknap took part in Maj. Gen. William T. Sherman's March to the Sea and the Carolinas Campaign. He was brevetted a major general, and led the XVII Corps with that rank. After the war, Belknap returned to civilian life, and became an internal revenue service collector in Iowa. Joining the Republican Party, he was appointed Secretary of War under President Ulysses S. Grant in 1869. Accused in March of 1876 of accepting over $24,000 in bribes, he was impeached by a unanimous vote of the House of Representatives. It is not clear if Belknap was aware of the bribe or if his wife had arranged the bribes. The Senate could not provided enough votes to convict him, but the Secretary of War soon resigned. Probably because of his resignation, Belknap was acquitted. He moved to Philadelphia, then practiced law in Washington, D.C. He died there, on October 13, 1890, and was buried in Arlington National Cemetery.