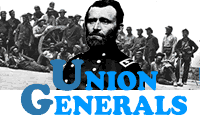 GENERAL GEORGE DASHIELL BAYARD, USA
VITAL STATISTICS
BORN: 1835 in Seneca Falls, NY.
DIED: 1862 in Battle of Fredericksburg.
CAMPAIGN: Washington Defenses, Strasburg, Woodstock, Port Republic,
Cedar Mountain and Fredericksburg.
HIGHEST RANK ACHIEVED: Brigadier General.
BIOGRAPHY
George Dashiell Bayard was born in Seneca Falls, New York, on December 18, 1835. He grew up in a pioneering family in the Iowa Territory. After attending the US Military Academy at West Point, he graduated in 1856 and was commissioned a 2d lieutenant of cavalry. Bayard fought against Indians on the frontiers of Kansas and Colorado for about five years. In 1861, he was commissioned colonel of the 1st Pennsylvania Cavalry, and was assigned to the defense of Washington. Bayard trained and disciplined his volunteer troops by sending them on scouting details in the countryside. During a probe of Confederate bridge defenses outside Falmouth, Virginia; his troops got caught in a trap, and had to fight their way out. Although rifle fire hit his horse three times, Bayard survived the engagement unharmed. As a result of his successful leadership, Bayard was commissioned chief of cavalry of the III Corps and brigadier general of volunteers on April 28, 1862. He later led 1,000 cavalrymen in the advance of Maj. Gen. Irvin MacDowell's troops at Strasburg and Woodstock. Bayard also fought under Maj. Gen. John C. Frémont at Port Republic. In August of 1862, at Cedar Mountain, Bayard led the Union advance. When the Army of the Potomac was restructured that fall, Bayard was promoted to cavalry commander for the Left Grand Division. Bayard was mortally wounded by a Confederate artillery round in the Battle of Fredericksburg. He died on December 14, 1862, the day after he was wounded.