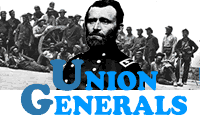 GENERAL WILLIAM FARQUHAR BARRY, USA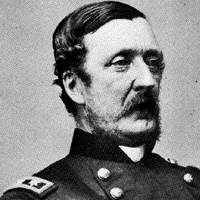 VITAL STATISTICS
BORN: 1818 in New York City, NY.
DIED: 1879 in Baltimore, MD.
CAMPAIGN: First Bull Run, Peninsula, Yorktown, Mechanicsville,
Gaines' Mill, White Oak Swamp, Malvern Hill, and Atlanta.
HIGHEST RANK ACHIEVED: Major General.
BIOGRAPHY
William Farquhar Barry was born in New York City on August 18, 1818. He graduated from the US Military Academy in 1838, and became a lieutenant of artillery on the Canadian border. Barry went on to fight in the Mexican, Seminole and Kansas-Missouri border wars; and was promoted to captain of the 2nd US Artillery. When the Civil War began, he became major of the 5th US Artillery, and was sent to Fort Pickens, Florida. From there, he was posted north, joining Brig. Gen. Irvin McDowell's command as chief of artillery for the First Bull Run Campaign. At one point in the campaign, Barry's command mistook Confederate troops for Union troops; and the Union forces were forced from their position by the Confederates. Despite this mistake, Barry was known for his bravery and organizational skills. On August 20, 1861, he was made brigadier general of volunteers. After Maj. Gen. George B. McClellan appointed Barry his chief of artillery, Barry organized the ordnance arm of the Army of the Potomac. In the Peninsula Campaign, Barry supervised and fought at the Sieges of Yorktown, Mechanicsville, Gaines' Mill, White Oak Swamp and Malvern Hill. After action at Harrison's Landing, however, he asked to be relieved, in order to serve elsewhere. Until March of 1864, he supervised the forts and batteries surrounding Washington, D.C., and served on several ordnance boards. At the beginning of the Atlanta Campaign, Barry became Maj. Gen. William T. Sherman's chief of artillery, and was brevetted a colonel in the Regulars and major general of volunteers in September of 1864. Barry went on to fight in the campaign against Gen. John B. Hood's invasion of Tennessee, as well as to fight in Sherman's campaign from Savannah, Georgia through the Carolinas. On March 13, 1865, Barry was brevetted brigadier and major general in the Regulars for his service in the war. After the Civil War, he became a colonel in the Regulars, and supervised troops on the Canadian border during a time of diplomatic conflicts. He ran the Army's Artillery School at Fort Monroe, Virginia, for 10 years. Barry died on active duty at Fort McHenry, in Baltimore, Maryland, on July 18, 1879.