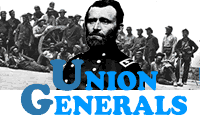 GENERAL WILLIAM WOODS AVERELL, USA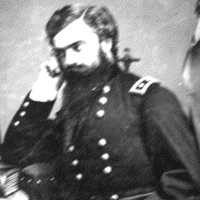 VITAL STATISTICS
BORN: 1832 in Cameron, NY.
DIED: 1900 in Bath, NY.
CAMPAIGNS: Peninsula, Kelly's Ford and Chancellorsville.
HIGHEST RANK ACHIEVED: Major General.
BIOGRAPHY
Born in Cameron, New York, on November 5, 1832, William Woods Averell attended West Point. After graduating, he fought against Native Americans in the Southwest, and was recovering from battle wounds when the Civil War began. In 1861, Averell carried secret messages to the U.S. Army in Arkansas and Indian Territory, later serving as a staff officer and doing provost duty in Washington, D.C. Early in the war, he established himself as a prominent cavalry officer, being named colonel of the 3d Pennsylvania Cavalry in August of 1861. In the Peninsula Campaign, Averell was the leader of a mounted brigade, commanding the rear guard in the Army of the Potomac's retreat to the James River. After being promoted to brigadier general of volunteers, he served at Antietam and Fredericksburg. Averell was credited with the March 1863 Union victory at Kelly's Ford, the first major triumph of the Union cavalry over the Confederate cavalry. Two months later, however, he lost his command because of dilatory leadership during the Chancellorsville Campaign. Averell was transferred to West Virginia, where he was less of a public figure than in his days with the Army of the Potomac. Nevertheless, he led several successful expeditions against Confederate forces. He was a capable division commander, although he experienced conflicts with Major General Philip H. Sheridan. When Sheridan learned of Averell's problem with dilatory leadership, he removed him from duty. Averell never again held command, although he was brevetted a major general of volunteers and brigadier general of Regulars by the end of the war. After the war, he became an inventor, and held positions as U.S. counsel general in Montreal and inspector general of the Soldiers' Home at Bath, New York. He died in Bath on February 3, 1900.