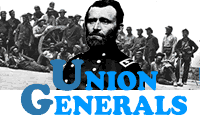 GENERAL CHRISTOPHER COLUMBUS AUGUR, USA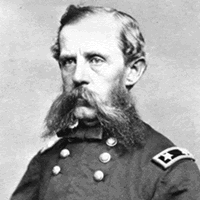 VITAL STATISTICS
BORN: 1821 in Kendall, NY.
DIED: 1898 in Washington, DC.
CAMPAIGNS: Cedar Mountain and Port Hudson.
HIGHEST RANK ACHIEVED: Major General.
BIOGRAPHY
Christopher Columbus Augur was born in Kendall, New York, on July 10, 1821, and grew up in Michigan. After attending West Point, he graduated 16th out of 39 in the class of 1861. Before he returned to West Point as a commandant, he served in the Mexican War and on frontier duty. When the Civil War broke out, Augur was ordered to Washington, where he helped organize the capital's defenses. In November of 1861, he was promoted to brigadier general of U.S. Volunteers. Augur served as a brigade commander on the Rappahannock, leading a force that captured Fredericksburg on April 21, 1862. Given command of a division of Major General Nathaniel P. Banks' II Corps, he served under Major General Banks in Virginia and on the Mississippi. Just before the Second Bull Run, Augur was wounded severely at Cedar Mountain. Although Banks' corps was defeated by Major General "Stonewall" Jackson, Augur was cited for gallantry, and promoted to the rank of major general. After recovering from his wounds in November, 1862, he was sent to New Orleans, where Major General Banks requested him to serve as his second-in-command. Augur's last field service was in the Mississippi River campaigns of 1862-63, where he commanded the District of Baton Rouge in 1863. He led the left wing of Banks' corps, which succeeded in capturing Port Hudson after the fall of Vicksburg. From October 1863 to the end of the war, Augur commanded the XXII Corps and the Department of Washington, D.C. After the war, he remained in the Regular Army, retiring in 1885 with the rank of brigadier general. Augur died in Washington, D.C., on January 16, 1898.