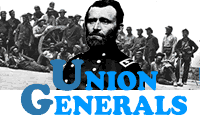 GENERAL ADELBERT AMES, USA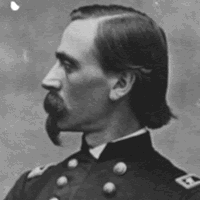 VITAL STATISTICS
BORN: 1835 in Rockland, ME.
DIED: 1933 in Ormand, FL.
(Last full ranking Civil War General).
CAMPAIGNS: First Bull Run, Peninsula Campaign, Malvern Hill, Antietam, Fredericksburg, Chancellorsville, Gettysburg, Cold Harbor, Petersburg and Fort Fisher.
HIGHEST RANK ACHIEVED: Major General.
BIOGRAPHY
Born on October 31, 1835, in Rockland, Maine, Adelbert Ames went to sea on a clipper ship as a young man. Attending West Point and graduating fifth in his class in 1861, he was commissioned a lieutenant of artillery. Ames commanded a section of Battery D/5th U.S. Artillery at the First Battle of Bull Run, and was seriously wounded in the thigh. He issued orders until he was unable to continue, refusing to leave the field. Brevetted a major for his courage, he returned to duty in a few weeks. Ames commanded Battery A/5th U.S. Artillery in the Peninsula Campaign, and led the 20th Maine infantry in the Antietam Campaign and at Fredericksburg, Virginia. He served as Maj., Gen. George G. Meade's aide at the Battle of Chancellorsville. In 1863, Ames was commissioned a brigadier general of volunteers, and he commanded a division at the Battles of Gettysburg, Cold Harbor, Petersburg, Fort Fisher. Ames was brevetted major general of volunteers and major general in the Regular Army for his efforts. After the war, he served as Mississippi's provisional governor, U.S. senator, and the state's elected governor. Involved in the corrupt politics of Reconstruction Mississippi, he resigned from public office in 1876, while facing impeachment. During the Spanish-American War, Ames served briefly as brigadier general of volunteers. Awarded the Medal of Honor in 1893, he died in Ormand, Florida, on April 13, 1933, at the age of 97. Ames was the last surviving full-rank Civil War general.