Wythe, George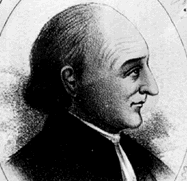 George Wythe was born in 1726 in Elizabeth City County, Virginia. He gained a strong knowledge of the classics from his mother and also studied at a grammar school operated by the College of William and Mary. When he was somewhat older, he studied law in Prince George County. He was admitted to the bar in 1746 when he was twenty years old.
Wythe moved to Williamsburg in 1748 and began an intense study of law and the classics. He was a member of the House of Burgesses from around 1755 until 1775, and served as mayor of Williamsburg in 1768. During this period of time, Wythe also became a respected teacher of law. One of his most famous students was Thomas Jefferson. Wythe attended the Continental Congress from 1777 until 1776, but remained rather uninvolved, preferring to dedicate his energies to state politics.
Teaching was always Wyth's greatest passion, and the nation's first chair of law was created for him in 1779 at the College of William and Mary. As a professor, he went on to instruct some of America's most famous early lawyers, including John Marshall, James Monroe, and Henry Clay.
Wythe was eighty years old when he passed away in 1806. He was buried in Richmond's St. John Episcopal Church.