Wilson, James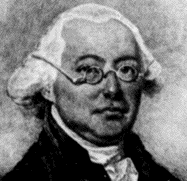 James Wilson was born in near St. Andrews Scotland in the early 1740's. He received an excellent education at St. Andrews, Glasgow, and Edinburgh Universities. In 1765, he arrived in America while the tensions over the Stamp Act were high. He was offered a position teaching Latin at the College of Philadelphia the following year, but chose to go ahead and study law instead. In 1768 he was admitted to the bar. Two years later, he moved to Carlisle, Pennsylvania, and began to build up what would become an extremely successful law practice..
Wilson became active in Revolutionary politics around 1774 when he joined the Carlisle committee of correspondence and attended the first provincial assembly. In 1775 he was elected to the Continental Congress where he went on to specialize in military matters and Indian affairs.
Later in life, Wilson maintained an active public life. Congress chose him to be one of the directors of the Bank of North America in 1781, and in 1787 he attended the Constitutional Convention where he lead the floor debates and the drafting committee. Finally, President Washington appointed him associate justice of the Supreme Court in 1789.
James Wilson passed away in 1798 and was buried in Philadelphia's Christ Church.
.