Thornton, Matthew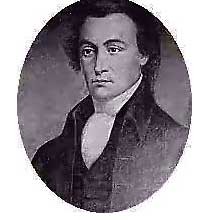 Matthew Thornton was born in Ireland around the year 1714. He and his family came to the colonies when he was about four years old. He attended regular primary schools when he was young, and later completed his medical studies with local doctor. He opened his own practice in 1740 and it quickly began to thrive.
Thornton became politically active in 1758 when he began representing his town, Londonderry, in the colonial legislature. He held this position until 1775. From 1775 until 1776 he was president of the provincial assembly, chairman of the council of safety, and a speaker of the upper house of the legislature. He became a member of the Continental Congress in November of 1776. He had missed the formal signing of the Declaration of Independence, but he was allowed to sign the document nevertheless.
In 1777 Thornton went home in order to serve as the associate justice of the State Superior Court. He held on to this post until 1782. Then, from 1784 to 1786 he was a member of the State senate. He was eighty-nine years old when he died in 1803 in Newport, Massachusetts. His grave is in the Thornton Ferry Cemetery.
.