stone, thomas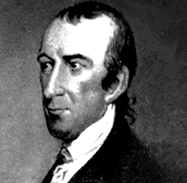 Thomas Stone was born on his family's plantation, Poynton Manor in Charles County Maryland in 1743. He received an excellent classical education and was later apprenticed to a lawyer in Annapolis. He was admitted to the bar in 1764.
Stone first became involved with politics in 1773 when he served as a member of the committee of correspondence in Charles County.. In 1775 attended the provincial convention where he was asked to attend the Continental Congress. He did so in 1775 and served until 1778, but was one of the less zealous men present. He was always strongly in favor of some sort of reconciliation with the British.
Thomas Stone served on the Maryland State senate for most his life, and he also came back to the Congress in 1784 where he served as president for almost a year. He died in 1787 at the age of forty-four. He is buried in his family's graveyard near Habre-de-Venture.