stockton, richard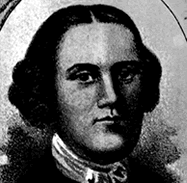 The son of a wealthy judge and landowner, Richard Stockton was born in Princeton, New Jersey in 1730. He completed his primary education at West Nottingham Academy. He later graduated from the College of New Jersey (present day Princeton University) and then went on to study law. He was admitted to the bar in 1754.
Stockton was recognized as one of the best lawyers in New Jersey by the middle of the 1760's. He served on the executive council of New Jersey for six years starting in 1768, and he also sat on the provincial Supreme Court from 1774 until 1776.
Stockton's involvement with the Revolutionary cause dated back to its beginning in 1764. He pushed for American representation in Parliament and later, after the passage of the Stamp Act, challenged British authority as a whole. Later on, due to fears of war however, he backed down a bit and promoted the notion of colonial self-rule under the Crown. In 1776 he began attending the Continental Congress, voted for independence and signed the Declaration of Independence.
Richard Stockton was captured and held as a prisoner by the British in Perth Amboy, N.J. and New York. He was released in 1777, but never fully recovered. He was fifty years old when he died in Princeton, New Jersey in 1781. He was laid to rest in the Stony Brook Quaker Meeting House Cemetery.