Sherman, Roger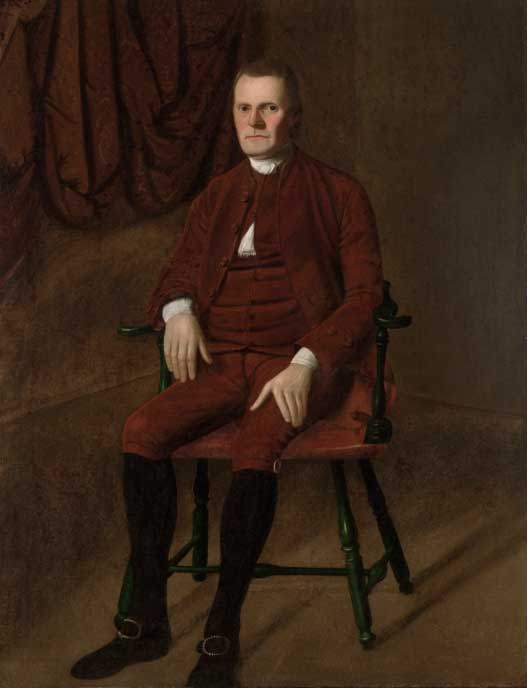 Roger Sherman was born in 1723 in Newton, Massachusetts. He received only a common school education while growing up, but his strong desire to learn lead him to become a voracious reader in his spare time. For the most part though, his father kept him busy either working as a farm hand or learning the cobbler's trade. His father passed away in 1741, however, and Sherman moved with his brother to New Milford, Connecticut two years later.
In Connecticut Sherman purchased a store, worked as a surveyor for the county, and filled numerous small town political posts. As Sherman grew wealthier over time, his prestige in the community grew. While he had never received any legal training, he was still admitted to the bar in 1754. From that time on, he dedicated his life to legal and political matters. From 1755 until 1761, he sat on the colonial legislature and also held positions as justice of the peace and county judge. Over time, Sherman continued to move up the political ladder, finally becoming an associate judge of the Connecticut Superior Court and a representative serving in both houses of the colonial assembly.
Roger Sherman attended the Continental Congress from 1774 until 1781, and once more from 1783 until 1784. He worked with the committee that authored the Declaration of Independence as well as the Articles of Confederation. Sherman was additionally involved in decisions dealing with Indian policy, national finance, and military issues. Throughout this time, Sherman still managed to remain involved in state politics. In 1783, he worked on the codification of Connecticut's statutory laws, and in the following year, the people elected him mayor of New Haven.
A strong supporter of the Federal Constitution, Sherman played an important role while attending the Constitutional Convention in 1787. It was he who came up with and presented the Connecticut/Great Compromise which helped resolve ongoing conflicts between large and small states over political representation. This measure called for two major houses, a lower house (representation according to state population) and an upper house (equal representation). These two houses were the House of Representatives and the Senate. Toward the end of his life, Sherman sat in Congress as both a member of the House of Representatives from 1789 to 1791, and of the Senate, from 1791 to 1793. He died at the age of seventy-two in 1793, and was buried in New Haven's Grove Street Cemetery.