rush,benjamin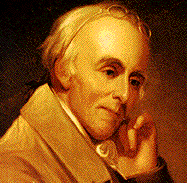 Benjamin Rush was born in 1745 not far from Philadelphia. He received his initial education at the Nottingham Academy in Maryland, and later went on to graduate from the College of New Jersey (Princeton University today). He came back to Philadelphia in 1760 and decided to study medicine. Six years later, after having worked as an apprentice to a doctor in the Philadelphia area, he traveled to Scotland to study at the University of Edinburgh. He was awarded a degree from this school in 1768. Following his studies in Scotland, Rush spent a bit more time traveling around Europe and then returned to Philadelphia in 1769.
Once in Philadelphia, Rush set up his own practice and soon became quite successful. He became the first professor of chemistry in the country when he began teaching at the College of Philadelphia and he even authored the colonies' first text book on this subject area. Rush came to know many famous men at this time, including Thomas Jefferson, John Adams, and Thomas Paine. It was Rush that encouraged Paine to write his famous work, Common Sense, and he even supplied Paine with the work's very famous title.
In June of 1776, Rush was present at the Pennsylvania conference of patriots where he helped to write a declaration of this colony's support for national independence. It was at this time that he was asked to serve at the Continental Congress. His service there was very brief, however, and his notoriety was a much more the result of other public work he became involved in.
Benjamin Rush was a strong supporter of the Federal Constitution, and in 1787 he published a number of persuasive articles in its defense in various newspapers. From 1789 until 1790, Rush was present at the Pennsylvania constitutional convention. Later in life, from 1797 to 1813, he held the position of Treasurer of the U. S. Mint.
A genuine idealist, Rush became a pioneer of a number of humanitarian and social movements. He worked for the abolition of slavery, as well as educational and prison reform. In addition, he worked vigorously to promote temperance and an end to capital punishment.
Benjamin Rush, a victim of a typhus epidemic, passed away in 1813 at the age of sixty-seven. He was laid to rest in Philadelphia's Christ Burial Ground.
.