McKean, Thomas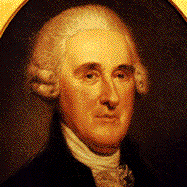 Thomas McKean was born in New London Township in Chester County, Pennsylvania in 1734. He studied for seven years at Reverend Francis Alison's academy, and then went on to read law with a cousin in New Castle, Delaware. He was admitted to the Delaware bar in 1754, when he was only twenty years old, and it was not long before he opened his own practice with branches in Delaware, New Jersey, and Pennsylvania. He later became quite active in Delaware's political affairs, serving as the militia captain, deputy attorney general of Sussex County, and as a member of the legislature.
Mckean originally became involved in the Revolutionary cause in 1765 during conflicts over the Stamp Act. At the Continental Congress he and the other Delaware delegate in attendance, George Reed, were deadlocked. McKean was ready to cast a vote for independence and Reed was opposed to it. On July 2, 1776, McKean was able to get a message to Caesar Rodney, another delegate, just in time for him to arrive, break the tie, and bring Delaware over to the side for independence.
In the years following the Continental Congress, McKean dedicated his energy to Pennsylvania politics where he was particularly instrumental in getting that state to ratify the Constitution. He also served as governor for three consecutive terms between 1799 and 1808. He died in 1817 at the age of eighty-three, and was buried at the Laurel Hill Cemetery in Philadelphia.