Lee, Francis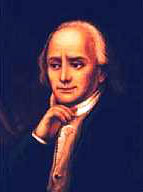 Francis Lightfoot Lee was born in 1734 on his family's estate in Westmoreland County, Virginia. The youngest of eight children, he received tutoring while growing up, but never attended college. When his father died in 1750, he inherited an estate, Coton, in Fairfax County. In 1757 he became involved in politics when he was nominated to serve as Loudoun Lieutenant by the colonial legislature. He also represented the county in the House of Burgesses.
Lee's involvement with Revolutionary cause dated back to the Stamp Act in 1765. He was consistently involved in Virginia's struggles with the Crown up until the outbreak of war some ten years later. He attended the Continental Congress as a delegate from Virginia, and was especially involved on those committees dealing with military and marine matters. Additionally, he was part of the committee in charge of working on the Articles of Confederation.
He ended his career with the Congress in 1779 and returned home to lead a quiet and private existence. He passed away in 1797 at the age of sixty-two and was laid to rest in his wife's family grave yard in Mount Airy, Virginia.