John Hancock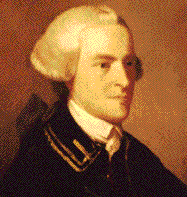 John Hancock was born in Braintree, Massachusetts in 1737. He studied at Boston Latin, and later received his degree from Harvard in 1754. He then went to work for his uncle's business. In 1760 he visited England for the first time in order to get a sense of English business operations, and in 1763 his uncle passed away, leaving him the largest fortune in New England along with a large house.
Angered by the Stamp Act of 1765, Hancock along with several other merchants began to protest it. Then, in 1767, British customs ships seized one of Hancock's ships and accused him of smuggling. He was taken to court where he was defended by John Adams who managed to get the British to drop the smuggling charges. This event drove Hancock to ally himself with the patriotic cause. Samuel and Johns Adams, eager to have a rich and well connected individual involved in their cause, encouraged the general population to admire him. At first he served as the president and chairman of the first and second provincial congresses. Later on, he was then chosen to serve in the Continental Congress.
Hancock attended the Continental congress between 1775 and 1777. He and Charles Thompson were the only two to sign the broadside copy of the Declaration of Independence which was printed on the same night it was signed, July 4, and distributed the day after. He was the first to sign the document that was signed by all members present, and of all fifty-six signatures, his is the most famous.
Hancock left the Congress in 1780 and returned to Boston. It was here that he devoted his time to Massachusetts politics exclusively. In 1780 he was elected governor of Massachusetts, and in 1788 he oversaw the ratification of the Constitution, a document he strongly supported, at the Massachusetts Constitutional Convention. In 1793 he passed away at the age of fifty-six while still serving as Governor. He was laid to rest in Boston's Old Granary Burying Ground.
.