William Floyd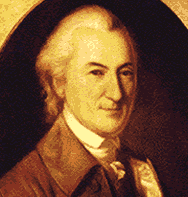 William Floyd was born in Mastic, Long Island in 1734. He received little in the way of schooling when he was young, and he spent most of his time doing farm work. Floyd became an active member of the community nevertheless, however, aiding his local church, working as a town trustee, and serving in the Suffolk County militia.
With tensions rising over the Tea Act in 1773, Floyd and many of his neighbors proceeded to attend Patriotic meetings, even going so far as to supply aid to Massachusetts. Floyd was sent by Suffolk County to the Continental Congress in 1774, and served there until 1777. During this time, he experienced tremendous difficulties. The British forces occupied Long Island in 1776, and his house was destroyed. His family was forced to flee to Middletown, Connecticut where his wife died in 1781.
Once the war was over, he was elected as a Representative in the First Congress. He also became a general in the New York militia. Later in life, when he was in his sixties, he turned his Long Island farm over to one of his sons, and moved to the New York frontier where he built a home in what is known today as Westernville, NY. He died there in 1821 when he was eighty-six years old. He was laid to rest in the town's Presbyterian Cemetery.