Clark, Abraham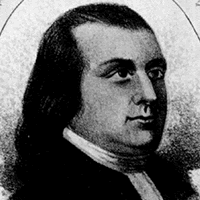 Abraham Clark was born on his grandparent's farm in Roselle, New Jersey in 1726. A rather weak child, he did not engage in heavy, physical work, but studied independently and showed a certain affinity for mathematics. He also went on to study law and surveying in order to understand the mediation of land disputes. As a result of his readiness to give legal advice for free or in exchange for produce, he became known as a "poor man's counselor."
Clark held numerous public positions early on in his career, serving the Crown as the high sheriff of Essex county, and as a clerk in the colonial legislature. It is not quite certain when he became involved in patriot politics, but between 1774 and 1776 he served as secretary of the New Jersey council of safety, was involved in numerous Revolutionary conventions, and was elected to the provincial assembly. In 1776, New Jersey replaced its conservative, anti-independence delegates with five new representatives, and Abraham Clark was one of those chosen to serve at the Congress.
Suffering from poor health and pursued by worries concerning his family's safety (two of his sons were among those soldiers captured by the British and kept on the prison ship, Jersey), Clark was nevertheless determined to stay active in the Congress until the end of the war. In 1783 he then returned to New Jersey where he served on the State Legislature. He was too ill to attend the Constitutional Convention in 1787, but he was initially opposed to the Constitution in any case, opting not to support it until the addition of the Bill of Rights was made. Later on, from 1791 until his death from sunstroke in 1794, he served as a New Jersey representative in the Second and Third National Congresses. He was buried in the Presbyterian Cemetery of Rahway, not far from his hometown.