Bartlett, Josiah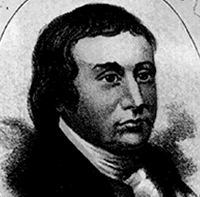 A man of humble origins, Josiah Bartlett was born in 1729 in Amesbury, Massachusetts. He received a common school education, and then went on to study medicine in the office of a relative. In 1750 he began his own practice in Kingston, New Hampshire, and soon became well-known for his medical innovations and experiments. During the ten or so years preceding the outbreak of war with the British, Bartlett held various positions of importance, including those of justice of the peace, militia colonel and legislator. By 1774, he had come out in support of the Revolutionaries. Elected to serve in the Continental Congress in that same year, he was initially prevented from attending when his residence was destroyed by fire - probably the work of Loyalist arsonists. Undeterred, he built another house in the same spot, and then departed for Philadelphia in 1775.
Once at the Convention, Bartlett served on various committees, but generally abstained from congressional debates, believing them to be of little use. He was reelected to serve in 1777, but was worn out and chose to stay home. In August of that year, however, he provided his medical services to the New Hampshire militia and to the Continental troops in general. Then, too exhausted to continue, he finally ended his career with the Congress in 1779, and spent the rest of his life working in New Hampshire. He served in the state court as the chief justice of common pleas between 1779 and 1782. Later, he held the positions of associate and chief justices of the Superior Court. He was a strong supporter of the Federal Constitution, and in 1788 he took part in the State convention which went on to ratify it. He turned down an opportunity to join the US. Senate in 1789, but became Governor of New Hampshire in the following year, an office he held until 1794.
Never losing sight of his original vocation, Bartlett continued to explore the medical field, and received an honorary degree of Doctor of Medicine form Dartmouth College in 1790. A year later he founded and became the president of the New Hampshire Medical Society. He died at the age of 65 in 1795, and was buried in the yard of the Universalist Church in Kingston.