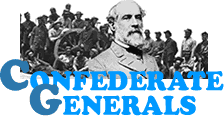 GENERAL TURNER ASHBY, CSA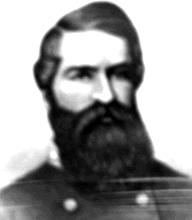 VITAL STATISTICS
BORN: 1828 in Fauquier County, VA.
DIED: 1862 in Harrisonburg, VA.
CAMPAIGNS: Harrisonburg.
HIGHEST RANK ACHIEVED: Brigadier General.
BIOGRAPHY
Turner Ashby was born on October 23, 1828, in Fauquier County, Virginia. After receiving a basic education from tutors and his widowed mother, he managed the family farm, "Rose Hill," with his brothers. After John Brown's Raid, Ashby raised a company of volunteer cavalry to patrol the Potomac River to guard against further raids. After Virginia seceded from the United States, Ashby's company became part of the 7th Virginia Cavalry Regiment, and Ashby was soon elevated from a captain to a colonel. After his brother was killed by a Union patrol, Ashby's desire for vengeance inspired him to become a Confederate officer known for personal bravery. Nevertheless, he remained a soft-spoken leader, often criticized for insufficient discipline. He performed a number of scouting duties until the spring of 1862, when General Thomas "Stonewall" Jackson put him in command of all Confederate cavalry in the Shenandoah Valley. Two weeks after he was made a brigadier general, he was shot and killed instantly. His last words were, "Forward, my brave men!" Ashby never got married, and wrote few letters. After his death, General Jackson said of him, "as a partisan officer I never knew his superior." Ashby's remains are in the Stonewall Cemetery, in Winchester, Virginia.