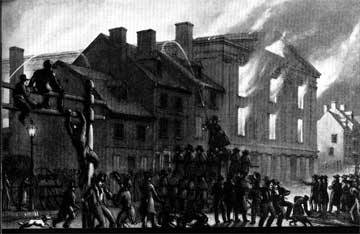 ---
Elijah Parish Lovejoy was born in 1802 in the state of Maine. Lovejoy's father was a minister. After college, Lovejoy established himself as a newspaper editor in St. Louis– where he also ran a small school. Lovejoy become involved in the abolitionist movement and decided to become a minster himself. After going to Princeton Theology School Lovejoy returned to St. Louis and renewed his work as a newspaper editor. Tensions in St. Louis over the issue of slavery were very high. After his press was destroyed three times, Lovejoy moved to Alton, in the nominally free state of Illinois. Alton, however, was a center for many slave catchers, and had been settled largely by Southerners.

On November 7, 1837 a mob of slavery supporters approached the warehouse where Lovejoy had hidden his press. The mob fired shots into the warehouse. Those shots were returned by Lovejoy and his supporters, killing one of the member of the mob. The mob put a ladder on the building – with the intention of torching the roof. Lovejoy surprised them by going out of the warehouse and knocking down the ladder. He then retreated back into the warehouse. Once again, the mob tried to place a ladder on the warehouse and burn it down. When Lovejoy emerged the second time, the mob was ready and shot Lovejoy. He was killed on the spot by five bullets. The warehouse, along with the press were then burned down.

Lovejoy's name was enshrined as someone who gave his life to stop slavery.