Fidel Castro
1926-
Cuban Politician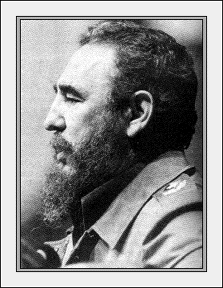 Fidel Castro was educated as a lawyer and began his career as an opponent of Cuban President Batista. In 1954, he led an unsuccessful revolt against Batista and was forced to flee the country. In 1956, he returned with a small invasion force that was also unsuccessful. After waging a guerrilla campaign for two years, he led a large-scale attack against Batista and forced him to flee the country.
Though the US initially supported him, he soon developed strong ties with the USSR, which turned that support into strong opposition. Castro, in power for decades, has been one of the world's last hold-outs as a Communist leader.

Bibliography:

Brown, Warren.Fidel Castro : Cuban Revolutionary . 1994. Millbrook Pr.

Bunck, Julie Marie. Fidel Castro and the Quest for a Revolutionary Culture in Cuba . 1994. Past U Press.

Quirk, Robert E. Fidel Castro .
1993. Norton W W Co. Inc.

Escalona, Robert Luq. The Tiger and the Children : Fidel Castro and the Judgment of History . 1992. Transaction Pub.

Geyer, Goergie Anne. Guerilla Prince: The Untold Story of Fidel Castro. Boston, Little Brown. 1991.

Mankiewicz, Frank . With Fidel : A Portrait of Castro and Cuba . 1976. Ballantine Books Inc.

Vail, John J. Fidel Castro (World Leaders : Past and Present). 1986. Chelsea House Pub.