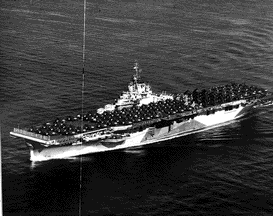 CV-20 USS Bennington
---
(CV-20: dp. 27,100; 1. 872'; b. 147'6"; dr. 28'7"; s. 32.7
k.; cpl. 3448; a. 12 5"; cl. Essex)
The Bennington ( CV-20) was launched 26 February 1944 by New York NavyYard; sponsored by Mrs. Melvin J. Maas, wife of Congressman Maus of Minnesota;and commissioned 6 August 1944, Captain J. B. Sykes in command.
On 15 December Bennington got underway from New York and transited thePanama Canal on the 21st. The carrier arrived at Pearl Harbor 8 January1945 and then proceeded to Ulithi Atoll, Carohne Islands, `There she joinedTG 58.1, 8 February. Operating out of Ulithi she took part in the strikesagainst the Japanese home islands (1~17 and 25 February), Volcano Islands(18 February4 March), Okinawa (1 March), and the raids in support of theOkinawa campaign (18 March-11 June). On 7 April Bennington's planes participatedin the attacks on the Japanese task force moving through the East ChinaSea toward Okinawa which resulted in the sinking of the Japanese battleshipYamato, light cruiser Yaha'si, and four destroyers. On 5 June the carrierwas damaged by a typhoon off Okinawa and retired to Leyte for repairs arriving12 June. Her repairs completed, Bennington left Leyte 1 July and during10 July-16 August took part in the final raids on the Japanese home islands.
She continued operations in the western Pacific, supporting the occupationof Japan until 21 October. on 2 September her planes participated in themass flight over Missouri (BB 63) and Tokyo during the surrender ceremonies.Bennington arrived at San Francisco 7 November 1945 and early in March 1948transited the Panama Canal enroute to Norfolk. Following pre-inactivationrepairs~, she went out of commission in reserve at Norfolk 8 November 1946.
The carrier began modernization at New York Naval Shipyard 30 October1950 and was recommissioned 13 November 1952. Her shakedown lasted untilMay 1953 when she returned to Norfolk for final fleet prep rations. Between14 May 1953 and 2.7 May 1954 she operated along the eastern seaboard, madea midshipman cruise to Halifax, Nova Scotia, and a cruise in the Mediterranean.
On 26 May 1954, while cruising off Narragansett Bay, the fluid in oneof her catapults exploded setting off a series of secondary explosions whichkilled 103 crewmen and injured 201 others. Bennington proceeded under herown power to Quonset Point, R. I., to land her injured.
Moving to New York Naval Shipyard for repairs she was completely rebuiltduring 12 June 1954-19 March 1955. On 22 April 1955 the Secretary of theNavy came aboard and presented medals and letters of commendation to 27of her crew in recognition of their heroism on 26 May 1954. Bennington,returned to operations with the Atlantic Fleet until departing Mayport Fla.,8 September 1955 for the Pacific. She steamed by way of Cape Horn and arrivedat San Diego one month later. The carrier has since served with the PacificFleet making two Far Eastern cruises.