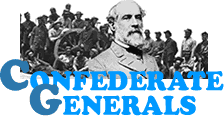 GENERAL RAPHAEL SEMMES, CSN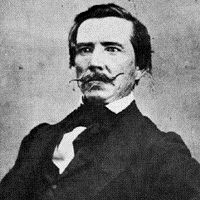 VITAL STATISTICS
BORN: 1809 in Charles County. MD.
DIED: 1877 in Mobile, AL.
CAMPAIGNS: Served as head of the Confederate Lighthouse Services; as Captain of the CSS ALABAMA; Responsible for 55 prizes; Captured and sunk more than any other Confederate cruiser; Also sank the USS HATTERAS (A warship) in Richmond in 1865.
HIGHEST RANK ACHIEVED: Rear Admiral and Brigadier General
(Later appointment never made official).
BIOGRAPHY
Raphael Semmes was born on September 27, 1809, in Charles County, Maryland. He was appointed a midshipman in 1826, and rose through the ranks as he studied law between cruises, being admitted to the bar in 1834. Serving in the Mexican War, he barely survived drowning when his ship capsized. In 1849, he moved to Mobile, Alabama, and wrote about his war experiences in "Service Afloat" and "Ashore During the Mexican War." Promoted to commander in 1855, he resigned his commission in the US Navy when Alabama seceded. A commander in the Confederate States Navy, he was appointed head of the Confederate lighthouse Service. Semmes felt that the Confederacy's small navy needed to include commerce destroyers. With support from Confederate Secretary of the Navy Stephen R. Mallory, he brought a steamer from New Orleans and converted it into the cruiser, the "Sumter," the first Confederate commerce destroyer. He spent six months at sea, during which he captured 17 American merchant ships. The ship was decommissioned and sold in 1862, and the Confederacy obtained more cruisers. Semmes was assigned to one of these, the CSS "Alabama." From August 1862 to June 1864, the ship helped capture and sunk 55 ships, more than any other Confederate cruiser. Admired among Confederates, Semmes was viewed as a pirate by the Union, and US Navy Secretary Gideon Welles made his capture a top priority. Semmes' efforts on behalf of the Confederacy contributed to a decline in his health. In a battle with the USS "Kearsarge" near France, the "Alabama" was defeated and 19 of its crewmembers were killed or drowned. Semmes was rescued, however, and promoted to rear admiral. When he saw little naval action, he organized his sailors and naval cadets into a brigade; and Confederate President Jefferson Davis made him a brigadier general, although the appointment was not made official. Semmes and his sailors were serving with Maj. Gen. Joseph E. Johnston when the army surrendered at Durham, North Carolina. Arrested and brought to Washington on December 15, 1865, he was tried for treason and piracy, and was investigated for charges of mistreating prisoners and violating rules of war. All charges were dropped, and he was released after being detained for three months. Nevertheless, he was unable to keep his positions as college professor and newspaper editor, apparently due to harassment from the government. He returned to Mobile, Alabama; practiced law and published "Memoirs of Service Afloat During the War Between the States." Semmes died in Mobile, on August 30, 1877.