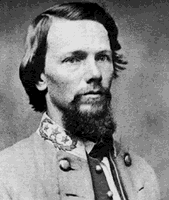 VITAL STATISTICS
BORN: 1836 in Darlington, SC.
DIED: 1920 in Bartow, FL.
CAMPAIGNS: First Bull Run, Peninsula, Seven Days, Gaines' Mill, Second Bull Run, Antietam, Federicksburg, Gettysburg, Chickamauga, Chattanooga,
Wilderness, Spotsylvania, and Cold Harbor.
HIGHEST RANK ACHIEVED: Brigadier General.
BIOGRAPHY
Evander McIvor Law was born in Darlington, South Carolina, on August 7, 1836. In 1856, he graduated from the South Carolina Military Academy, and was an instructor during his senior year. Helping establish the Military High School in Tuskegee, Alabama, he enlisted in the 4th Alabama when the state announced its secession. He fought in the First Battle of Bull Run, and was seriously wounded. Law led his troops though the Peninsula Campaign, the Seven Days' Campaign, the Battle of Gaines' Mill, the Second Battle of Bull Run and at Antietam. Promoted to brigadier general on October 2, 1862, he led a brigade at Fredericksburg, and began the Confederate attacks at Little Round Top. When Brig. Gen. John B. Hood was severely wounded at Little Round Top, the controversy over who should replace him brought Law into conflict with Maj. Gen. James Longstreet and with Law's rival, Brig. Gen. Micah Jenkins. In December of 1863, Law resigned, and Jenkins wanted Law court-martialed. The War Department did not prefer charges, however, and Law returned to the corps. After participating in the Battles of the Wilderness, Spotsylvania and Cold Harbor, being wounded at the latter, he commanded a cavalry unit until the end of the war. After the Civil War, Law moved to Florida, helped establish the state's educational system and worked as a newspaperman, remaining active in veteran affairs. Law died in Bartow, Florida on October 31, 1920.